So continuing on from a previous post in another thread....I have started the build...OMG...this one has some screws in it...
One a side note, I am only about 1/3 the way through the build...which means I only have about 10ish hours on it so far...and I am noticing something I never thought I would find with a Tamiya model....Screws missing, and not just 1, but several so far, and sizes that you couldn't overlook.
I am a little disappointed, Tamiya have always been known for the accuracy of the screw count, in fact, I cant remember a kit that didn't have exactly what was needed plus a few spares, but this kit has been a surprise indeed, mostly M3 x 30 (1), M3 x 20 (4), M3 x 18 (2), so far...I certainly hope that is the end of it.
Anyway...on to the build....so just to refresh your memory...here is a stock pickie of the trailer...
I am thinking the trailer is about 150mm+ longer then the others, but am assuming that this is because the Reefer is normally sitting behind a single drive cab over Prime Mover...although, I am looking at dropping it on the Knight Hauler which is a bogie drive conventional nose outfit.
I have been taking a few pickies along the way, but still need to load them onto the computer, so they will be in a later post.
I have also been toying with the idea of getting the trailer painted rather than using the stock decals, but that will depend on the availability of one of my friends and of course, how far I can stretch the budget on this one...
This Tamiya's idea of what the unit will look like behind the Prime Mover...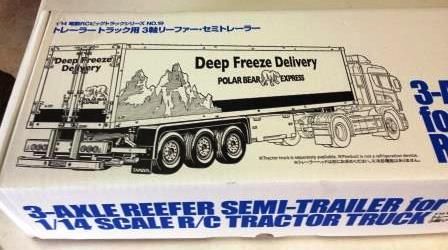 This pickie is very deceptive....the box is around 1100mm long, and the camera held way back to try and get all of it in...these are just the reefer side panels, all the plastics and mechanicals have been removed from the box...
The Rails...notice all the screw holes, apparently every one of them gets a screw or bolt and nut...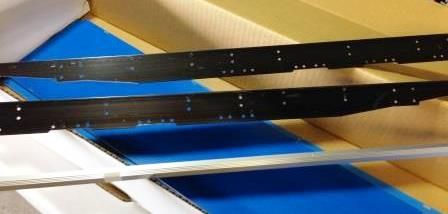 The panels spread out across a 3' table will give you a better idea of the length of the trailer when built...
A pile of plastics....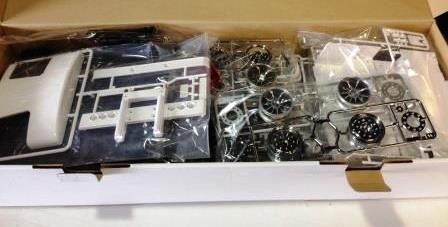 More to come.....